Artist Nathaniel Stern scans a subaqueous terrain
This article by Mary-Louise Schumacher appeared in both the online and print editions of the MJS
If memory serves, the first time I laid eyes on Nathaniel Stern, it was in a Facebook profile picture years ago. He was standing up to his chest in a lily pond, a straw hat tipped over his brow and sweeping what looked like a desktop scanner over the surface of the water. I remember thinking, "Who is this modern-day Claude Monet pondering perception in new ways?"
Since then, I've had the chance to get to know Stern, who is a contributor to Art City, the Milwaukee Journal Sentinel's online journal about art, architecture, design and the urban landscape. And while I've seen many of his installations, prints and videos here in Milwaukee, I've not had the chance to see some of his highly unusual scanner work, except in online reproductions and a few small prints.
Though they've been exhibited elsewhere in the world, including South Africa, they'll be exhibited here for the first time at the Tory Folliard Gallery in October. For his more recent scanner pieces, Stern straps on the scanner, laptop and custom battery pack and "performs images into existence." Lately, this process has taken Stern beneath the water's surface to subaqueous terrain, too.
Truth be told, by today's standards, scanners are pretty quaint technology, not the kinds of machines one typically dunks in the drink. Stern not only took months of diving lessons to be able to do this work, he spent countless hours with a team at the University of Wisconsin-Milwaukee designing a special rig for his equipment, which leaked horribly in the first several attempts.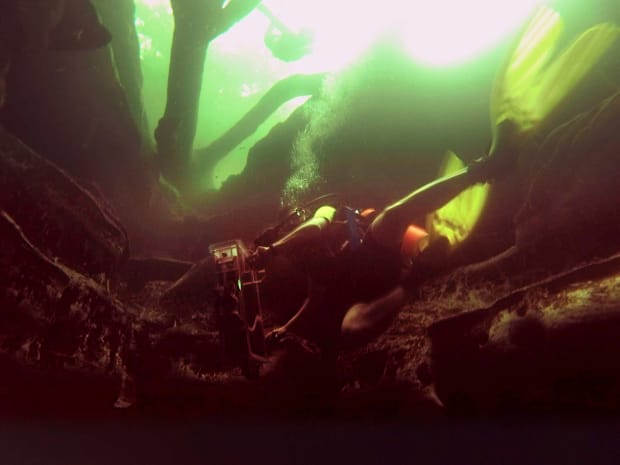 Nathaniel Stern has a desktop scanner strapped to his body while scuba diving to create his latest series of art images.
The resulting images, some made on a coral reef off the coast of Key Largo in Florida, are beautiful and strange. I can't wait to see them on the gallery wall. I'm reminded of the way the mind perceives, less directly than we might imagine, filling in pieces of what we see not unlike the way computers fill in pixels based on sophisticated, technology-driven guesses. There are moments of intense clarity that surface from the visual skips and drags. They are so otherly, but the images will also be familiar to anyone used to the digital hiccups of the 21st century.
As a writer at Gizmodo asked, maybe this is how fish see the world.
"The resulting artworks are full of care, thought, and wonder," states the website for the Tory Folliard Gallery, 233 N. Milwaukee St. The show opens Oct. 17.
Mary Louise Schumacher is the Journal Sentinel's art and architecture critic. Follow her coverage at Art City: www.jsonline.com/artcity.
See the original article by Mary-Louise Schumacher online or in print.